by Lori Cunningham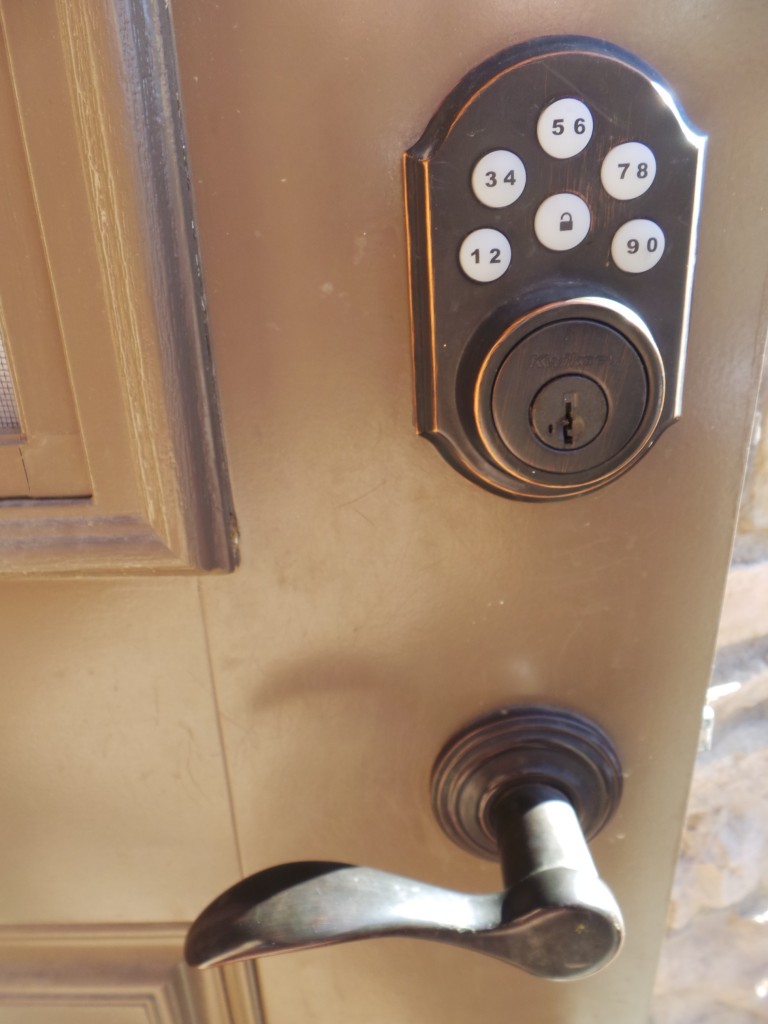 Last month I had the opportunity to interview Keith Brandon, Director of Residential Access Solutions at Kwikset.  At theWellConnectedHome.com, it's no secret that we are fans of electronic locks.  I have several myself and do not miss fumbling for the right key to open the door.  My kids love being able to open the door with a code also, no longer do they need to wait for me to get to the door to unlock it (as they always seem to be running ahead of me!)   Electronic "smart" locks continue to progress, getting smarter, more stylish, and more affordable.
Though the electronic market is growing, marketshare is relatively low with less than 10% of the total lock market.  This is mostly due to their price point.  Electronic locks tend to turn $200-$275 for an electronic lock or connected lock.  Most normal door locks run around $70.  Convenience and functionality comes at a cost.
One important thing to distinguish in electronic locks is whether the lock is connected or not.  Kwikset has two types of electronic locks:
1.  SmartCode
2.  SmartCode with Home Connect Technology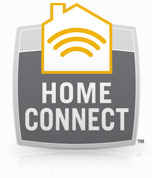 We have tested the Kwikset SmartCode with Home Connect Technology in the past, and in fact, these are the ones I installed in my home.  Kwikset locks with Home Connect Technology cost more than
the SmartCode because they work with home automation systems.  They can be purchased with either the Z-Wave or Zigbee protocols.  Dependent upon your home automation system, most work with either one or the other.  Control 4, for example, uses Zigbee.  Although I have KwikSet Z-Wave Home Connect locks and I use a software bridge to connect my Z-Wave locks to my Zigbee focused Control 4 system.  Kwikset launched their connected electronic locks with Control 4  3 1/2 years ago with their Zigbee lock.
Brandon feels that the "lock becomes the trigger and welcome to the home."  As more and more home automation companies integrate electronic locks into their suites, a whole series of events can happen from just opening up the door into your home.
Electronic locks make it feasible to:
Lock your door when away from home

Automatically arm or disarm your alarm simply by locking or unlocking your door (with home automation)
Receive text alerts when someone enters/leaves your home
Distribute temporary lock codes to guests, housecleaners, and anyone taking care of your house when away
Automatically lock your door at a certain time each night to give you extra peace of mind (with home automation)
Alert you via text message at what time your son or daughter opened the door…past their curfew!
Turn on a light when the keypad is touched for safety (with home automation)
The Changing Electronic Lock Industry
As more players are entering the market selling electronic locks in retail and through the residential custom home automation channels, more consumers are being educated on how locks work and their convenience.  Brandon said that consumers are recognizing the benefits of having the "peace of mind" in knowing your door is locked and being able to check its status when away from home.  Prices are coming down and more convenience is being featured in new lock models.
How Kwikset is Different 
Although there are more players on the market, electronic locks are still limited with regards to style/finishes and function.  Kwikset is the residential lock leader within the United States.  They offer more styles with functions than any other manufacturer and strive to create locks that are relevant, stylish, and convenient for consumers.  Kwikset's 2nd generation of locks are coming out later this year.  They will be 35% smaller and made entirely of metal, no plastic like today's Kwikset electronic locks.  Brandon mentioned that Kwikset "wants to elevate the style of the offering so people don't need to sacrifice style for function."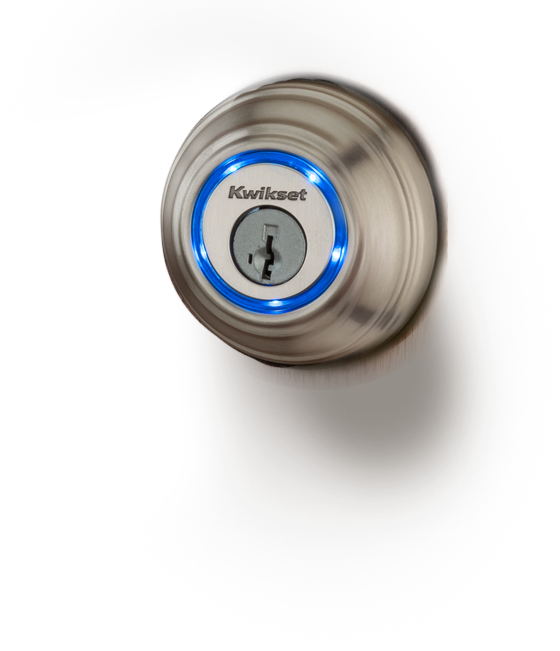 The Kevo – Bluetooth Lock
Kwikset's latest offering is a new Bluetooth lock called the Kevo, which will be introduced in November.  Though it is not a connected lock (it won't function within a home automation suite for now), it offers even more convenience than today's push button electronic locks.  The Kevo lock works with the Kwikset Kevo app on your phone to unlock your door with just a touch.  After touching the lock, a Bluetooth signal searches for your phone, which authenticates you and unlocks the door.  Upon market introduction, Kevo will only be available for the iPhone 4S and later.  Kevo for Android will come out at a later time.
Sounds great, but what about kids who do not have a cellphone?  You can purchase a FOB keychain that can be secured within your child's backpack or kept in a purse.  Kevo also works well with out of town guests or anyone to whom you'd like to give temporary or regular access to.  All they need is an iPhone with the Kevo app on it and they can be authenticated and allowed access.  The Kevo is available for pre-order now through Home Depot and a number of other retailers for $219.
A Homeowner's Perspective
Electronic Locks are the way to go.  The only lock that I have that isn't electronic is my front door simply because  we didn't want a keypad to distract from our elegant doors.  However, with the introduction of the Kevo, that wouldn't be a problem any longer.  They Kevo looks like an ordinary lock.  The only thing that distinguishes it is when you touch it, you'll see LED lights show up.  And I love the convenience of just touching the door to unlock it, it's even easier than a keypad.
One of the biggest fears people have about electronic locks is that the battery will run out and they won't be able to get it.  Yes, it's true, the battery does wear out.  But you get plenty of warning from red lights to sounds that your battery is dying.  In addition, all Kwikset electronic locks have a keyhole too.  I have had my locks for over two years now and have not been locked out.
Expect to see more and more offerings from Kwikset and others in regards to electronic locks.  It's amazing to me the convenience and peace of mind electronic locks can bring.  Brandon told me that interest in electronic locks typically stems from men, seeing it as a cool gadget for convenient entry into the house.  But once their wives can see the benefits of getting in without a key, being sent a text message when kids arrive home, and giving out temporary locks, they become even stronger supporters than their husbands.
Do you have electronic locks?  How do you use them?