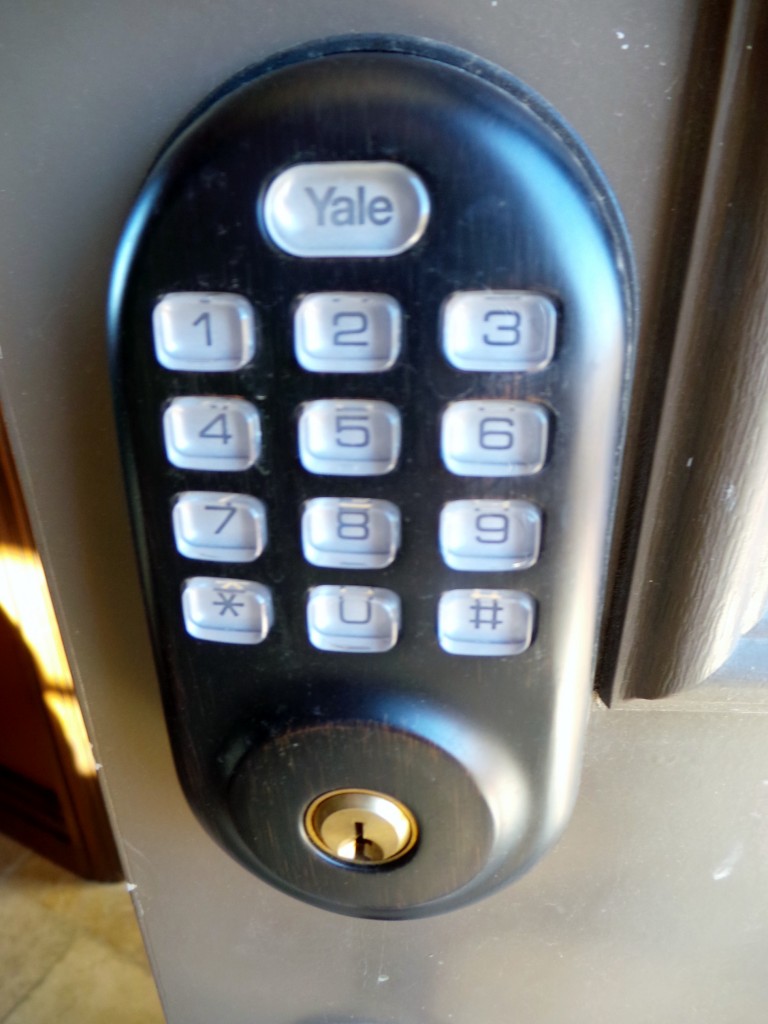 In the past, we've reviewed the Kwikset Smart Connect Locks, which I have in my house.  But when I decided to try out the Control 4 system, the test came with a Yale real Living Keyless Entry lock…using ZigBee, not the Z-Wave protocol that most of my house uses.  Now before I go into details about the Yale lock, let me clarify something.  Typically, you can buy keyless locks in three "flavors":
As is with no remote access (meaning you can't automate the lock)

Z-Wave – you can remotely open and close the door on your phone/tablet/PC
ZigBee- you can remotely open and close the door on your phone/tablet/PC/or even TV using Control 4
Both ZigBee and  Z-Wave use a mesh network type method in which a signal is carried from each  Z-Wave/ZigBee device to the next one nearest it.  So in order to carry the signal through to the far end of the house, you need to have ZigBee/ Z-Wave devices along the way.  Devices can include light switches, door locks, motion sensors, thermostats, and a whole slew of other items.
I have quite a network of  Z-Wave devices through the house, but to use the ZigBee keyless lock, I needed to install it close to the Control 4 HC-250 controller, which is hidden in my TV components under my TV in the family room.  Control 4 uses a ZigBee protocol.  So I had to have the Yale Keyless Entry locked installed nearby on the door to the outside in my bathroom downstairs, which is about 15 feet away from my family room…through walls.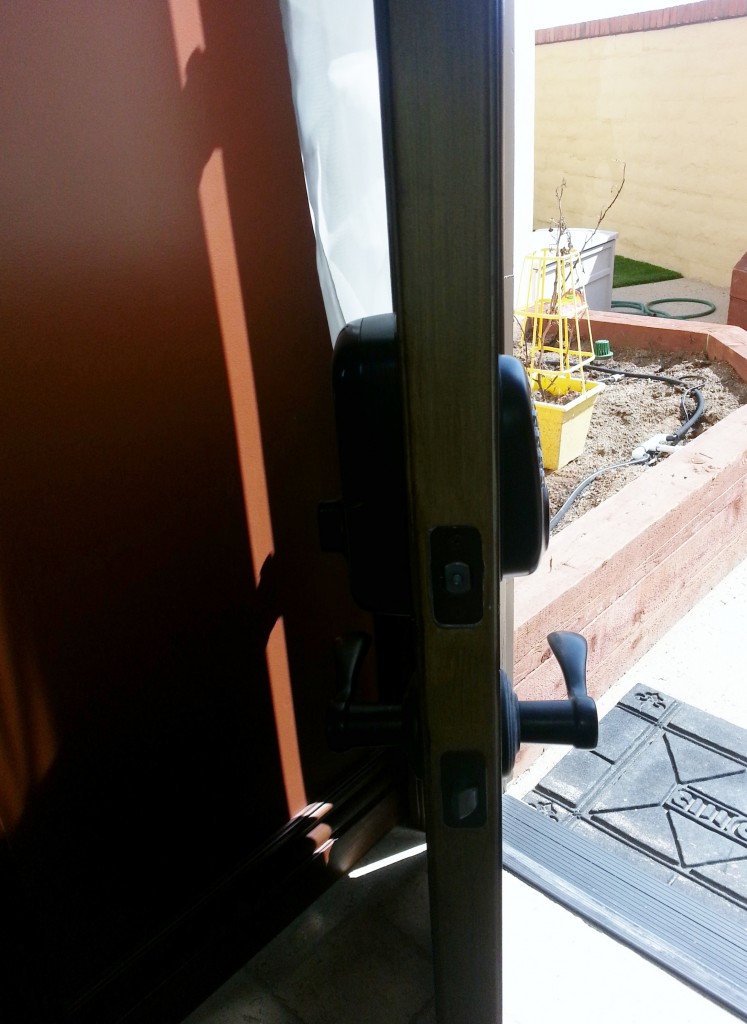 Because the Yale Keyless Entry lock uses ZigBee, I am able to control it from my Control4 controller, which is hooked up to my TV, tablets, and smartphone (with the 4Sight subscription).  There are some fun things I can do with it through Control 4.
Using Control4 and the Yale real Living app, available from the Control 4 app store on my TV, I can:
Turn off access to the lock altogether using the Privacy mode
Remotely lock and unlock doors from any web-enabled device
Receive text or email messages to my smartphone when a door is unlocked (with alerts that I pre-program)
Program who can enter the door by date and time (each person can have a different password to get in)
Check the status of the battery on the door lock
View who has used the door lock (again, using assigned passwords) and what time they gained access
Put the lock on auto-lock so it automatically locks itself shortly after someone has opened the door
Automatically lock the door at a set time – say 8pm each night
Our Control4 installer, Innovative, programmed our Control4 TV menu so that I can lock and unlock the Yale Keyless lock from the comfort of my couch in the family room.  I have used this feature a couple of times and it's handy.  Now, my kids have their own codes so this feature isn't as needed anymore.  Had I installed the lock on my front door, I would be using this feature quite frequently.
This the the Control4 screen on my TV, you can see that I have the ability to lock or lock the Front Bath door.   This is the Yale real Living app I downloaded  from Control 4.  It shows the battery status and from here I can add users and give each one their own password.  I can then look at a history to see who has been opening the door and at what time.
Features of the Yale real Living Keyless Entry include:
Ability to add up to 250 individual users!
One year battery life
Deadbolt motor -the deadbolt is motorized to move in and out
Low battery warning
Available in several different finishes – polished brass, oil rubbed bronze permanent, and satin nickel, as well as in two styles: acrylic touchscreen or push button keypad
Can use on all standard doors
An e-mail gets sent to a parent, should your child unlock the door while you're at work
Available in ZigBee or Z-Wave protocols
Together with your Control4 system (or Vera system or others if using a Z-Wave lock), you can set all sorts of scenarios like when the Yale door lock unlocks…
the lights turn on

the lights turn on, the TV turns on, and the thermostat turns on the heat
the security alarm disables
music turns on
your favorite channel on the TV turns on
or a customized scenario to make your arrival home more inviting
The Yale real Living Keyless Entry lock sells for as low as $159.99 in oil rubbed bronze for the non Z-Wave/ZigBee version up to $300 at Amazon, though most models/colors/styles are less than $200.
A Homeowner's Perspective
As mentioned earlier, I have a number of keyless entry locks in my house.  I absolutely love them!  I no longer fumble for a key to open the door and what's even better, my kids LOVE unlocking the door, so by the time I get to the door from the car, it's already opened.  It is such a convenience not to worry about having a key on me.  In the early morning when I take my walk, I no longer have to worry about taking my keys, I just press a button and the door is locked.  When the kids are in the backyard, they can easily get into the house even if it's locked.  At night, we can press a button and the keypad lights up, so we can easily enter our codes.
For under $200, you can get a nice Yale real Living keyless lock for the door you use more often.  If you decide to buy the ZigBee/Z-Wave version, it will cost a little more, but if the idea of self automating some parts of your home interests you, I would definitely choose a lock with one of these protocols.  If you see Control4 in your future, which by the way, you can get up in running with some simple automation for under $1k, you should choose the ZigBee version.  If you want to go it alone, choose Z-Wave.  Just one caution.  Don't buy the basic lock if you think you could have a smallest inkling of doing some home automation.  Should you decide to automate down the road, you'll have to buy a new lock with the ZigBee or Z-Wave protocols.  The cost is not much more for the ZigBee/Z-Wave type, so I would opt for one of these versions.
So tell me, have you thought about DIY home automation?  What would you like to automate?  What is stopping you from trying it out?