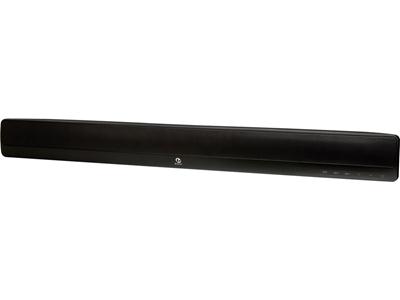 by Lori Cunningham
 Editor's Note:  For more reviews on personal, portable sound, see the articles on the AR Wireless Portable Speaker and the Phlips SoundShooter from our sister site, the WellConnectedMom.com.
I attended a very nice event at the Consumer Electronics Show, hosted by Techlicious.  One of the products showcased in their suite was a small soundbar with a great sound.  It was called the Boston Acoustics TVee 10.  What surprised me about the home theater soundbar was it's size.  It has a much smaller profile than most soundbars I've seen.
It filled the room with nice music, which had its part in making the event a success.  A month later I was sent a Boston Acoustics TVee 10 Home Theater soundbar to review.  Much to my surprise, my husband was more excited about it than anyone.  He unwrapped it right away and took it up to our bedroom and plugged it in.  Now, my husband appreciates technology, but he is not one to take the initiative to set it up.
The speaker comes with several different cables to connect to your TV.  The TVee 10 comes with the traditional composite audio cables and an optical cable.  The composite audio cables are rather short, so the TVee 10 soundbar is meant to be close to the TV.  Our TV hangs on the wall but we had to place the TVee 10 soundbar on the table underneath it, so the composite cables wouldn't work for us.
I have not worked with an optical cable before.  The cable is very thin but the heads of the cable are larger.  Fortunately, we have a newer smart TV, so I was able to find the optical cable port and hook up the soundbar.
We had immediate success and our bedroom was filled with sound.  My husband was thrilled, but I wasn't so sure I wanted the TV in our bedroom to have such big sound, after all, that's what the Family Room is for.  As I scratched my head, my husband gingerly took the instructions from my hands and proceeded into the bathroom for a bath.   Wow, he was really getting into this soundbar.
A few days later he told me that he learned you can pair your TV remote control with the TVee 10 remote control so that your TV remote learns the TVee 10's commands like Volume up or down, Mute, Input Music/Movie, and Power.  Within 5 minutes we had it up and running and he put the TVee 10 soundbar remote control in the drawer.  Wow, what a great feature.  At first we thought we were going to have to use both remotes each time to control its sound.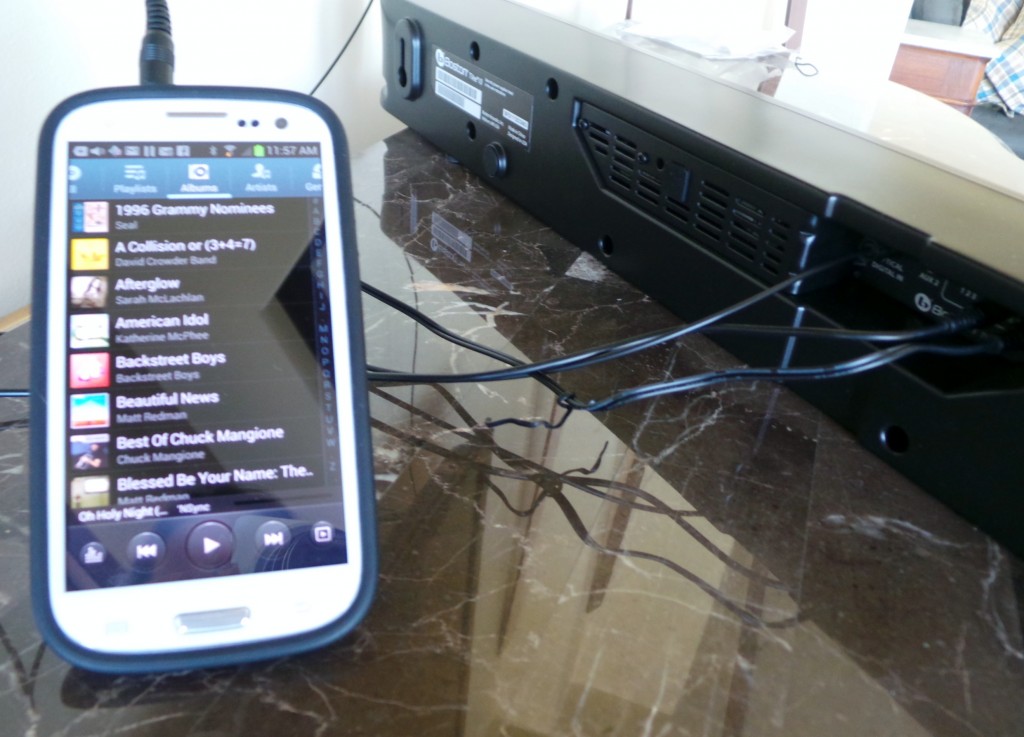 Pros:
   Easy to set up
   Your remote can learn the power, volume, mute, and input controls so you don't need two remotes
   It is not nearly as costly as many other soundbars on the market
   Its small, thin size makes it easier to place near/under the TV
Cons:
   The sound isn't as strong as my husband would have liked, needs more bass, but for its price range, it sound pretty good
The Boston Acoustics TVee 10 Home Theater sells for $199 at Amazon.
A Homeowner's Perspective
I'm still not sure I'm a fan of having theater quality sound in our bedroom, I can definitely see the benefit of the Boston Acoustic TVee 10 soundbar in your family room or game room.  It has great sound and even includes a separate subwoofer and BassTrack circuitry which minimizes distortion.
I also like the fact that I can attach my smartphone or my daughter's MP3 player to it to play tunes as well.  It's a great way to relax and listen to music without needing to turn the TV on.  And yes, the TVee 10 remote control still works so you can play, pause, mute, or fast forward to another song.
One day we'll hang the TVee 10 soundbar right under the TV and because it's not bulky, it should fit in pretty well.
Do you have a home theater soundbar?  Where did you put it?
*  I was given a Boston Acoustics TVee 10 Home Theater soundbar in exchange for my honest opinions.