by Lori Cunningham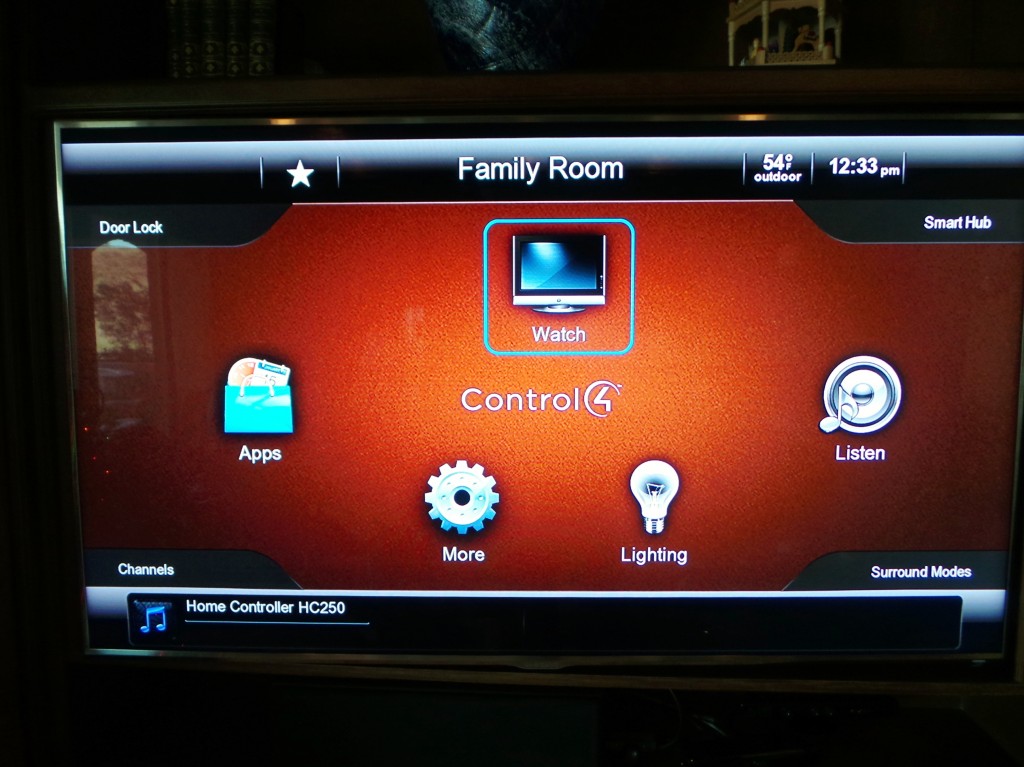 In my last article, DIY Home Control isPossible, But is it Worth It?, I wrote about my reluctance to divert from my DIY plan for home automation and try out a professionally installed Control4 system for our family room.  We have now had the Control4 system installed for two months and I'm ready to tell you about my experience with it.
Control4 – Controlling the Family Room
A local professional custom home automation  installer, Innovative, arrived at my house to install the Control4 HC-250 Controller.  What I immediately liked about the HC-250 controller is that it is a starter kit to get a room up and going for automation.  You don't need to have a whole closet  full of equipment to control your Family Room home theater.  Just the HC-250 Controller and the remote control.  That's it.  Although I could put the HC-250 controller in a central closet, I chose to put it with all of my home theater gear.
I love the fact that you can start small and just start your automation in one room.  Then, you could expand to additional rooms at your own pace and with additional cost as you go, not all lumped up in a huge initial investment before you even know if you like it.
The HC-250 controller incorporates:
a powerful 1GHz processor
ZigBee processor for fast control of lighting, security, music and video libraries
a small profile, easy to tuck away behind a TV or in a cabinet
integrated Wireless-N connectivity
2 audio outputs – 1 analog and 1 HDMI
1 analog audio input
USB port for external storage for easy music retreival
built-in Power over Ethernet (PoE) capability for power and
network connectivity over a single CAT5/CAT 6 cable
intuitive control available from a Control 4 remote, smartphone/table, or TV
See more specs
This all sounds great, but I have a myriad of devices in my Family Room cabinet.  Could this small one room device handle all of my devices?
Innovative hooked up for me the following items to the HC-250 Controller:
Samsung TV
Denon Internet Receiver
XBOX 360
Wii
Verizon Motorola DVR
MHL Cable – to connect my smartphone for TV viewing of phone photos & videos
Yale Real Living Deadbolt Lock (ZigBee)
Vera Control for my Z-wave devices
Innovative spent a number of hours setting up the HC-250 Controller and SR-250 Remote Control and ensuring it worked with my Z-wave system.  Plugging in the devices into the HC-250 controller took little time.  The real effort was in the details of setting up the equipment and registering all of my touch screens (smartphones and tablets) into the Control 4 software.  Innovative gave me a behind the scenes tour of the software professional installers use to ensure the homeowner's experience is seamless.  The software was quite a bit more complex than the software I use for the Vera Z-wave controller.
Innovative was at our house for about 4-5 hours, of course, this included installing a
Yale Real Living Deadbolt Lock
as well.  Oh, and in addition, Innovative was able to find a Z-wave bridge through
Extra Vegetables
, so that the HC-250 could control all of the Z-Wave GE lights I had installed in our home.  This blew me away.  So now, I can use the SR-250 remote to control my TV, home entertainment, Yale Real Living lock, and all the Z-Wave enabled lights in our house.  Suddenly, this Family Room HC-250 Controller was controlling way more than just our home theater.
The Control4 HC-250 has a very powerful processor, with the 50+ Z-Wave light switches I have, I can control all of them.  Now, with as much load as I have, I would probably be better suited to upgrade to the HC-800 Controller, which has a more powerful 1.8 dual-core processor and could handle the load better.  Nonetheless, I have been very impressed with how much of a load the HC-250 Controller can control.
Here's what the screens look like:
The blue screen shows what Control 4 looks like, with only a little programming, you can see the "Door Lock" in the upper left-hand corner that Innovative added.  This allows me to lock and unlock our outside door using the remote control.  After the programming was done (see right picture), all four corners are now filled with custom programming, "Door Lock," "Smart Hub," "Channels," and Surround Modes.  SmartHub is a quick way to select various components such as our DVR, Smart Hub on our Samsung TV, and gaming devices, Surround Modes are the various fun audio choices we have available on our Denon receiver (like Theater, Sports, etc.), and Channels refers to our favorite channels.  You can see the sub-menu's below of the custom buttons:
The Real Test
As noted earlier, I'm a technology tinkerer…or DIY enthusiast as I prefer to call myself.  I'm particularly intrigued by TV control technologies, so over the years, I have fiddled in this arena…which my husband, calls his "sacred space."  There have been a number of times where it's taken me some time to get the TV DVR, Tivo, or whatever,  working again like it was before I messed with it.  So you can imagine, my husband reluctantly agreed to having a "better system" installed in our family room.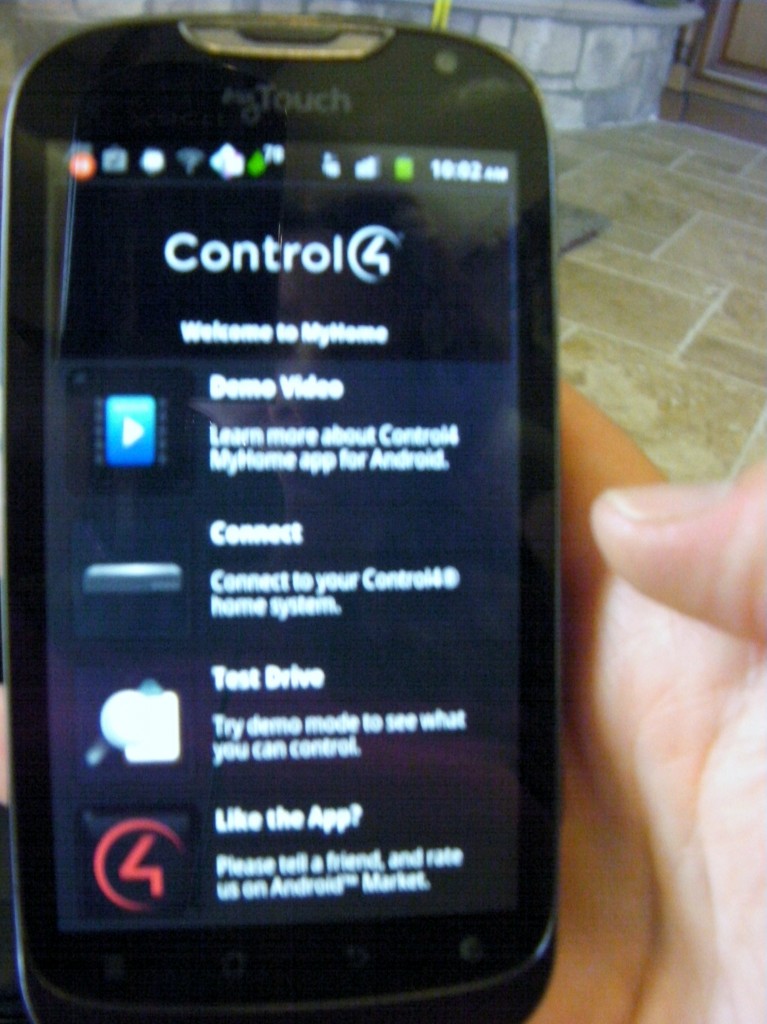 That evening after the Control4 installation, he tepidly sat down to use the remote.  He was pleasantly surprised at how easy it was to turn on the TV, get to the DVR, listen to music, and play the XBOX.  He loved the fact that there are four ways to control our home theater:
TV
various smartphones (we have 4 of them)
tablets (we have 2 of them)
SR-250 Control4 remote
The interface on the Control4 hub on your TV is very appealing and intuitive, the same is true with the Control4 app.  We can even use these remote controls to lock and unlock our door as well as turn on, off, or dim the lights.  The XBOX 360 can be turned on using the XBOX menu item on the remote and app.  Unfortunately, the Wii and PS3 consoles cannot be turned on with the remote due to their lack of an infrared port.  However, there are 3rd party 
adapters 
that can be purchased so Control4 can turn them on and off.
Pricing
You can control your entire family room and more for less than you think.  Granted, the cost is more than a Logitech Harmony remote, but you will get much more value out of the Control4 system as well as the ability to expand easily.  The retail cost of the HC-250 Controller is $599 (for $400 more you can get the more powerful HC-800 controller), $199 for the SR-250 remote, and if you want a connected lock, it is $349 for the Yale Real Living Deadbolt lock, though other lock options are also available.
So, for under $1,500, you can have a real nice set-up to control your family room and more.  Yes, there are a few more costs.  If you want to control Control4 with your phone, you will need a mobile license to use your smartphone/tablets for Control4.  A mobile license for a single device is $199 and an unlimited mobile license (which is what I have) is $499.  Oh, and should you already have Z-wave devices in your home or are thinking about implementing them the driver costs $200 (and well worth it, I might add).  The cost of installation, if it were simply the controller and the remote (not all of my Z-wave inter-dependencies) would have been only $250.
A Homeowner's Perspective
I have tried a number of devices to control our home theater before.  Many of them apps but also Logitech Harmony remotes.  I have not yet found any remotes that have come close to the control and ease of use that Control4 provides.  And I love the fact that even though Control4 is a ZigBee based system, it can still control my numerous Z-wave devices through the use of a simple software driver.  Wow.  I have to say, Control4 has surpassed my expectations.
What I love about my Control4 experience:
it uses IR so I don't even need to point my remote control anywhere to make things happen
I can turn on and off my XBOX console with it
I can turn on my XBOX console, TV, and receiver easily with the remote
I can turn off all connected devices with the "ALL OFF" button
The Control4 red button makes it easy for anyone to control the TV, lights, music, and more
I can easily access our favorite channels
Accessing our DVR is no problem, with most buttons available on the Control4 remote
Using our iPad or smartphone is handy and fun
There are less layers to go through to turn on Pandora then we had without Control4
We finally have one central point to access our door locks, lighting, and home theater
It's very intuitive.  My husband was able to figure it out without any instruction
Any questions or issues I have, Innovative is a phone call a way and very responsive to my calls
All of our other remotes are finally tucked away into a drawer!
I have to say, I'm a believer.  With the busyness of life with work, kids, and maintaining our home, it's nice to make a phone call if something isn't working or if we'd like to make an adjustment to something rather than being the one to have to troubleshoot.  It's also nice to bounce ideas of Innovative about future things we'd like to do with technology in our home.
We had three remote controls always out on our coffee table before – the TV remote, the DVR remote, and the Receiver remote.  To turn anything on or off would take at least two controllers.  To find Pandora or YouTube would take a few layers of menu's to get to them.  Now, we have one Control4 remote to control all the devices, inputs, even the movies we play through our XBOX 360.  One button turns everything else.  One remote on our coffee table.  And best yet, as I think of cool ideas for our home automation…like when the door unlocks, three lights will light our path to the kitchen or when we have a party, a series of lights turn on, Pandora plays, and the doors unlock…and work with Innovation to customize our automation to our liking.
*  Control4 provided the SR-250 remote, HC-250 controller, Yale Deadbolt Lock, and services for purposes of this review.  All opinions…and swallowing of my own DIY independence, are my own.