by Mike Bowser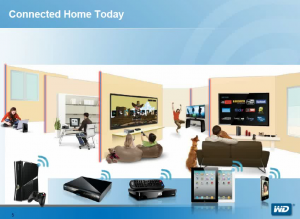 I bought my first router in 2000 and I remember back then it was quite a feat to get it setup. You had to setup your own passwords and userids for your network but security back then was not as high of a priority as it is today.  If your not familiar with what a router is, it is simply a device that helps to direct and control all the wired/wireless communications in your home or business network (make sure information gets from one computer to another).
When I opened the box for the Western Digital Net N900 I was pleasantly surprised to find very little to unwrap and setup. Just the router, power cord, network cable and a CD.  I can definitely say routers have come leaps and bounds over the past 10 years and this one definitely got me excited when I started going through the setup process.
Features
The Net N900 offers a number of features including:
FasTrack Plus technology
Simultaneous dual-band – 2.4 and 5 GHz
Range-amplifying technology
7 Gigabit Ethernet ports
2 USB ports
My Net software includes parental controls, Internet security, guest access, and network diagnostics
Advanced QoS (WMM)
WPA/WPA2, SPI firewall security
IPv6, WPS, DLNA, UPnP,
Wi-Fi certified
Easy Set-Up
Initial setup of the router was very simple, I just had to plug it in to my home network and follow the setup instructions on the cd that fired up right when I inserted it into my computer.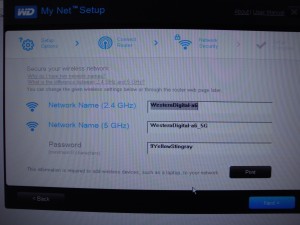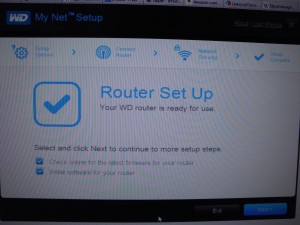 One thing I really loved about this router were not only its features but that it setup my wireless password for me automatically so I didn't have to try and think up of a strong password to secure my network with. There are so many cool features that this router has it will be difficult to squeeze them all into this one post but here we go.
The Net N900 provides you many options to ensure you have the best experience when it comes to streaming HD video across your network. The Net N900 supports both 2.4 GHZ and 5 GHZ Wi-Fi bands. The 5GHZ band is definitely preferred when it comes to wireless in your home mainly because there are a number of devices which use the 2.4GHZ band in your house such as cordless phones, baby monitors, microwave ovens, car alarms all of which create noise on your network and can cause a significant decrease in speed, or sometimes the total blocking of the Wi-Fi signal when a conversation on the phone takes place.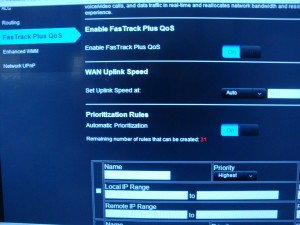 Prioritization of Media
The Net N900 also provides FasTrack Plus which instantly analyzes and prioritizes all movies, videos, games and chat sessions delivering faster, smoother, HD streaming with more efficient load times – even when it's all happening at the same time.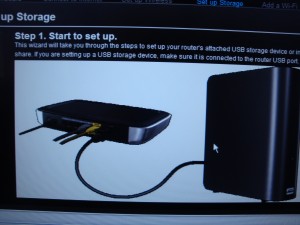 Shared Network Drive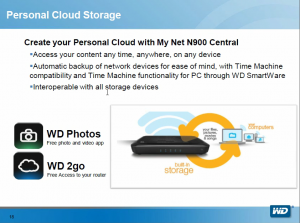 Probably the coolest feature the Net N900 has is the ability to make your router a shared network drive or what they like to refer to as (personal could storage), the latest buzz phrase you might have heard going around. I hooked up one of my small portable hard drives to one of the two available USB ports on the back and setup the drive on the router via my computer.  After the setup was completed I could see my hard drive available with my other drives on my computer as a network drive. The neat feature with this is I now have the ability to drop files onto this hard drive from any computer that is connected to my home network via this router which also means I can view any of the files on this hard drive from any device that is connected to my home network which makes it very easy to stream movies that I may have on one computer to another or to my tablet or even to my television with the right hardware.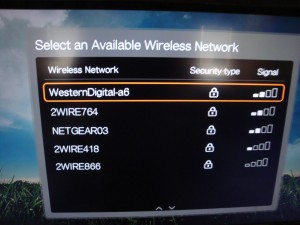 I hooked up my WD TV Live Media player to my television downstairs which connects wirelessly and I was able to see my router and the shared hard drive downstairs on my television which made it very convenient to access our family photos and movies.
Access Your Documents/Media from the WD Phone App

One of the other perks that Western Digital provides are free apps available on the iPhone and Android. These apps let you connect to your Net N900 or other WD devices directly on your phone giving you the ability to access all your content on your attached network drive directly on your phone including pictures, documents, movies and music. You can also email content to friends and family via the app as well as access or upload content to your dropbox or skydrive accounts. The WD photos app has a number of options to modify your photos, view them in a slide show or email them to friends and family on Facebook.  The apps will only connect to a My Net N900 Central, My Book Live Duo or a My Book Live hard drives, however recently I found an app called NetPortal in the iTunes store that sells for $4.99 and allows you to access your files in cloud storage using a non-WD drive.   

Power Included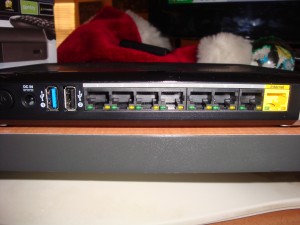 There are 2 USB ports on the back of the router. If you ever want to know why there colored it is usually for power. The colored blue USB port on this router provides power for devices like a portable hard drive that may not have an external power source. The black colored USB port would therefore not provide you power.
Networked Printing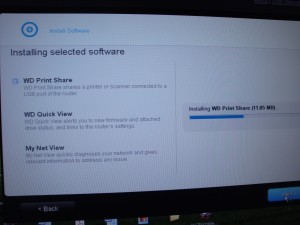 Other features I really enjoyed with the WD Net N900 was the shared printing capabilities.  For a very long time I have struggled with printing in my house because I have multiple computers and only one printer. It is a pain to hook up a printer physically to multiple computers and you tend to be limited to the options you have when you want to have multiple computers print to one printer. I originally had to have my printer setup as a shared printer which required my computer to always be turned on if anyone in the house wanted to print to the printer.
Well the Net N900 solved the problem for me because it has shared printing capabilities. I just plugged my printer into the router via the USB connection, setup the connection via the cd software for the router and am now able to have our family printer print from any computer without the hassle of ensuring my own computer was turned on. If your also worried about sharing a multi-function printer that can scan, copy and fax, don't worry the Net N900 can handle those as well.
Guest Access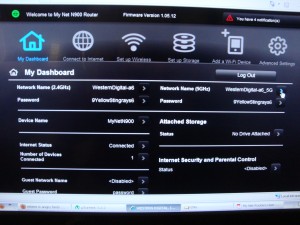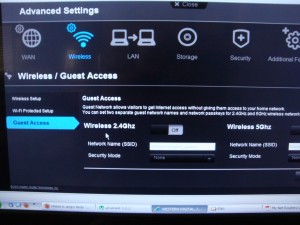 Other novel features that I think really enhance this router's offerings is providing guest access. I know many times I have had friends or family over that want to get on my network and they need my wireless network key to access my home network. The Net N900 gives you the option to setup guest access which will give your guests a separate wireless network key so that you can keep your main wireless key separate giving your guests Internet access and preventing them from accessing your entire network including shared drives etc… I like to think of it as the valet car key you would give the valet driver so they can park your car but not have access to your trunk or locked glove box.
Parental Control of Web Surfing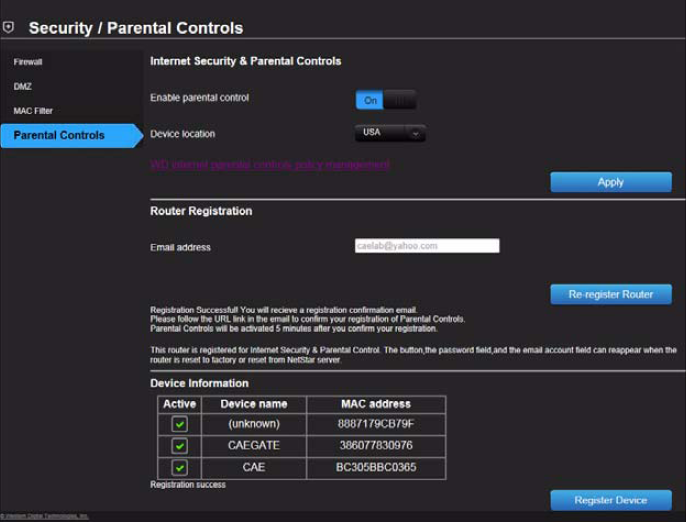 For parents that are concerned about controlling access to content on the Internet for their children the Net N900 gives you some options to limit the type of websites your children can view, set access and time limits for their web access and  Internet security to prevent malware and spyware attacks. The router has a nice number of menus that give you password protect parental access so your child can not go in and circumvent your Internet control policies you have implemented. You can setup controls on all devices on your network or selected devices via the menus.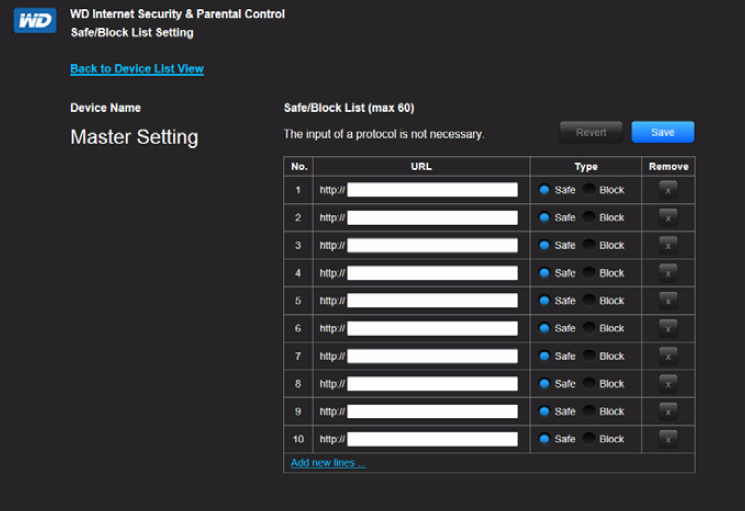 The Safe Block List is one of my favorite parental controls because I prefer as a parent to safeguard my children's internet access through inclusion rather then exclusion. There are so many bad sites that we try to protect our children from accessing and there are new ones popping up all the time that we don't know about. The Safe/Block list gives you the option to prevent your child from accessing specific sites explicitly or the other way around which I prefer is to block everything except for specific sites you list as safe. Whenever my child wants access to a new site they can't get to, I will check the site out myself and if I'm OK with it, I'll add it to the safe list. This can be difficult of course if your child is doing research papers and they need access to multiple sites for learning materials.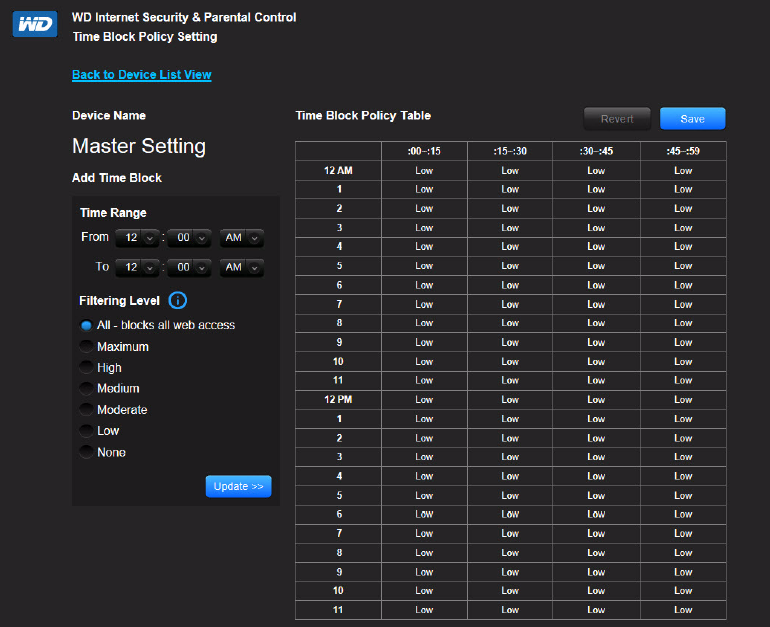 The Time Block option is nice when you have kids that sneak their tablets or phones into bed with them instead of going to sleep. There are a number of options that let you control the level of access your children can have and at what time you want that level of access throughout the day.
All – Blocks all web access regardless of category.
Maximum – Protects against social networks, video, and games. Includes all lower level blocks.
High – Protects against dating and all adult-related content. Includes all lower level blocks.
Medium – Protects against gambling, alcohol, and tobacco content. Includes all lower level blocks.
Moderate – Protects against occult, illegal acts, and advocacy. Includes all lower level blocks.
Low – Protects against pornography and hard core adult content.
None – Does not provide blocking; allows all web access.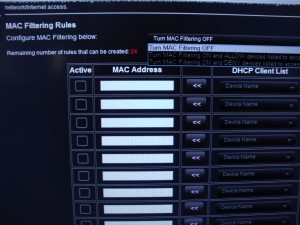 Another nice feature is the ability to block MAC addresses. A MAC address is kind of like a unique identifier for any physical device that connects to a network. You can think of it as like a Social Security Number for electronic devices, everyone has one and no two are the same. Blocking a MAC address is nice when you have someone that you added to your wireless network and they have begun to abuse that access and you need to block them completely. You don't really want to change your wireless key which will affect everyone else on the network so you have the ability with this router to put that device's mac address specifically on the blocked list and they will no longer be able to access your network.
A Homeowner's Perspective
I have to say I LOVE THIS ROUTER! It is by far the Ferrari of home network devices on the market today. I was truly blown away by the options that were available to share my content among a number of devices on my network, sharing my printer for all my computers, controlling my children's Internet access as well as providing my guests their own access to my Internet. The only constructive feedback I have about this router is that in order to access the parental controls on the router you had to first register the router and it was supposed to email you an authorization code to enable your settings which proved to be a challenge to setup. Western Digital should do away with that feature as I don't see why it is necessary.
The WD My Net N900 is available on Amazon.com with Free Super Saver Shipping for $$133.99  or Bestbuy.com for $149.99 with free shipping. This is a solid router and is well worth the price you pay!
*  I was given the WD My Net N900 in exchange for my honest review.  All expressed opinions are my own.