by Lori Cunningham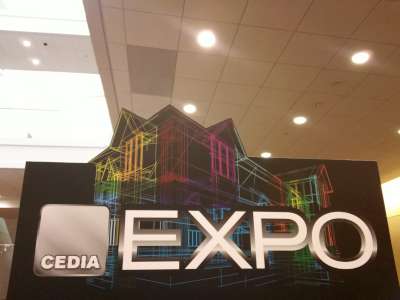 I just got back into town from a fun 2 1/2 day stint in Indianapolis, IN for the Custom Electronic Design & Installation Association (CEDIA)*. 
CEDIA
is a business-to-business trade show where Dealers, or Integrators/Installers, go to learn about the latest products for home automation and get trained on them. This year, there were over 400 exhibitors covering 121 product categories.
Dealers are companies who professionally install technology products in your home, can include:
low voltage wiring (cat 5/6)
control of technologies (remote control)
outdoor audio/video
surge suppression/power conditioning
wireless networks
media servers
computers
and many more technologies
There are an estimated number of 20,000-22,500 dealers installing at least one of these products in the US with an estimated $13.5b to $14.5B annual revenue in 2011 for residential installs.
Cost of Home Automation
Today's consumer can start with one area and build as they see fit.  Here are the average project size in 2011(1):You may be curious, as I was, to find out what the "average" price is of different types of home automation.  I remember hearing about 5 years ago that the initial starting price of any home automation started at $20,000.  But pricing has come down.
Home Theater                              $20k
Audio Systems                             $11k
Control Systems                         $11.2k
(mostly for home theaters & audio systems)
It is interesting to note that…
90% of dealers integrated a mobile device for controlling the automation
41% of their clients requested mobile access and control
The average number of home networking systems increased 40% last year
The average projected number of outdoor entertainment systems is projected to be up 40% this year
39% of dealers utilize wireless audio when installing audio systems
Whether or not you are ready for home automation, your house will continue to grow with Internet-ready innovations which will make your life easier.  In fact, by 2015, there will be 25 billion Internet-connected devices (2).  Chances are likely, you will need some sort of support by a dealer to integrate, manage, and leverage technology in your home.  Make no mistake, as consumers become more familiar with smartphone and iPad applications, there will be a bigger demand for automating technology in the home.
I am excited to report more from the show.  Stay tuned for pictures from the show as well as my favorite home technologies.
*  I was hosted by CEDIA to report on the latest on home/theater automation for consumers.  My airfare and lodging were taken care of.  All opinions are my own.