by Lori Cunningham
Editor's Note:  I'm pleased to announce that we have finally moved into our house!  Now we are finally using all of the home technology we have spec'd out and installed in our home over the past couple of years.  Expect to see more reviews on theWellConnectedHome.com.  Thanks for reading and we encourage your feedback and even post submissions if you'd like to write about your experiences with different home technology products.
I've always heard that central vacuum systems are a huge help in your home but the trouble has always been, where do you put the 30-50ft hose?  I've seen closets taken over with a 50 ft. hose before.  Seems like such a waste of space.
Several years ago, I attended a home builder tradeshow, in Long Beach, called BIS – The Building Industry Show, which is a smaller type version of the Pacific Coast Builder Convention (PCBC) in San Francisco.  I stopped to look at the central vacuum systems, H-P Products were demoing their Vacuflo products.  But it wasn't the central vacuums that caught my  eye.  In their booth they had a demonstration of a product called Hide-A-Hose.  Hide-a-Hose is a remarkable product where the 30-50ft. hose is self-contained in the wall.
Yes, you heard me correctly,

the 30-50ft central vacuum hose is self-contained in the central vacuum pipes in the wall and can be pulled out and easily retracted as needed.
Wow, I was amazed.  As we were making plans to build our house, I wasn't originally thinking of installing a central vacuum, but that one demo changed it all for me.  I couldn't believe how convenient it could be to have the hose already stored and ready to use.  All you need to do is attach the handle and any accessories and you're good to go….

No…

….large closet(s) to hold the coiled 30-50 ft. hose(s)
….jammed closet due to the over-sized coiled central vac hose
….need to drag the huge hose all around the house to your central vacuum port
The Hide-A-Hose Framework
Although in some cases, the Hide-A-Hose can be retrofitted, it works best for new construction.  The PVC pipes need to be laid out in such a way that there are wide sweeps instead of tight angles.  Tight angles will cause jams in the 30-50 ft. hose.  We have a two story house but had no trouble installing the sweeps of the pipes the way Hide-A-Hose recommends.
The Hide-A-Hose Hose Itself
After we decided to get a central vacuum, the Hide-A-Hose had everything in a hose we were looking for – a large span of 50 ft. and a "sock" along the whole hose, so the hose would not mark up our floorboards.
Using a Hide-A-Hose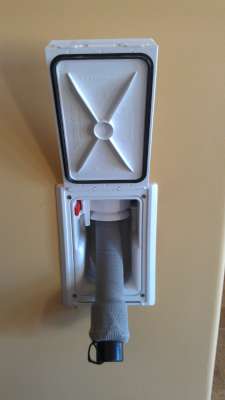 The Hide-A-Hose is easy to pull out from the wall.  Just pull out what ever amount you need.  When you're done vacuuming, simply put your hand over the hose while it's running and the hose will retract nicely back into the wall.  Turn off the hose and you're done.
How We've Used Hide-A-Hose So Far:
Glitter – my kids did a project with glitter in one room and of course, it spread out to all of  the rooms.  We have pitted travetine floors.  I was unsure if the suction would be strong enough to get the glitter out of the pits.  The Hide-A-Hose and Vacuflo central vac system did great.  One rollover and the glitter was gone.
Laundry Lint – We strategically placed a central vac hose just outside our laundry room.  I take of most of the lent from the dryer trap and throw it away,  but I use the Hide-A-Hose to suck up any leftover lint.
Pillow Fuzz – I washed our pillows and throw pillows in the laundry room and one of the throw pillows surprised me with lent all over the other pillows…in the washer.  No problem, I used the Hide-A-Hose to suck up the lent and washer before I put the pillows in the dryer.
Kitchen Crumbs – it's been very handy to use the Hide-A-Hose in the kitchen to clean up the floors.  I have another tool that H-P Products makes called the Vroom I use in the kitchen to clean up the counters.  More on this in another post.
Normal Cleaning – the Hide-A-Hose and central vac works great for our travetine, low-pile carpet, and even our thick plush carpet.
Electrical vs. Standard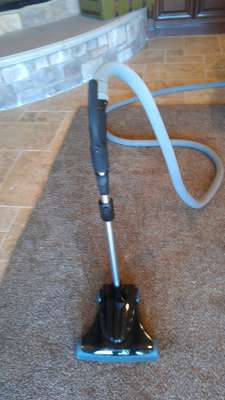 There are two types of power-heads (vacuum cleaner/brush) you can buy, dependent upon whether you have electrical or standard outlets.  If your outlets have power, you will use an electric power-head that powers the belt and forces the brush to roll.  If your outlets are standard, there is no electricity and you will use an air driven (turbine) power-head.  The Hide-A-Hose only works with standard outlets which means power turbines.
After doing some research on electric vs. standard power-heads, I was worried if the suction would be strong enough to pick up everything off our carpet.  My worries were unwarranted, as everything cleans up beautifully, and only after one swipe of the rod, which didn't always happen with my old regular vacuum cleaner.
A Homeowner's Perspective
We have a lot of different fun home technology throughout our house, but I'm telling you, the Hide-A-Hose is one of our most favorites to show people.  Friends are always amazed that the hose is built-into the wall and how easily it retracts.  I've always hated vacuuming, mostly due to the noise.  There is still noise with a central vacuum, but it is greatly diminished as the main central vacuum unit is in the  garage.  I am very pleased with our central vacuum system and Hide-A-Hoses.  Both products live very well up to their promises.
If you're thinking about getting a central Vacuum system, read our article, How to Buy a Central Vacuum System."  I spent a lot of time investigating central vacuums to decipher what are  good systems and what you need to know BEFORE you choose the right central vacuum for you.
*  I requested and was provided with Hide-A-Hoses in exchange for my honest opinion.  All opinions are my own.