by Lori Cunningham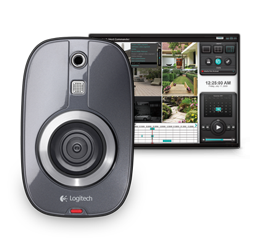 When you think of home security, you think of an alarm system where an alarm rings and the police are called if someone tries to break into your house.  But an alarm system is only as good as the last person out the door who remembers to set the alarm.  Alarms can be more of a burden than an advantage sometimes.
Our neighborhood had been burglarized quite a bit in the last two years and it always makes me a little uneasy when I run errands…or even worse…go on vacation.  If only there was a better way to keep an eye on the house without actually being there.
When my children were young, I enjoyed the luxury of having a baby monitor.  I could keep tabs on the baby and hear every murmur.  This is the kind of access I'd like to have with the house, only better and with mobility. Fortunately, home surveillance is not just for businesses or part of an elaborate, expensive alarm package anymore.  Home surveillance has gone DIY!  As a tech enthusiast, DIY tech is right up my alley.  So when I was given the chance to test out Logitech's Alert system*, I jumped on it!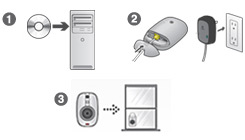 The Logitech Alert System uses your existing power lines (through your plug outlets) to communicate to your computer.  The steps are simple to set up.  Just insert the Logitech Alert System CD in your computer to load the program, plug in a module to your router, plug in your camera, strategically place it towards your back door, and ensure your computer recognizes it once it's initialized.
Keeping an Eye on Things
I have enjoyed feeling more secure by using the cameras for surveillance around the house.  My indoor camera points towards our back sliding glass door and windows.  I recently wrote an article called Five Tips to Stop Home Burglaries, and in my research I discovered that 22% of burglars enter through the back door.  The other camera is pointed towards my front door, because, believe it or not, 34% of burglars enter through the front door!  Wow, that's a higher percentage that I thought.
Vacation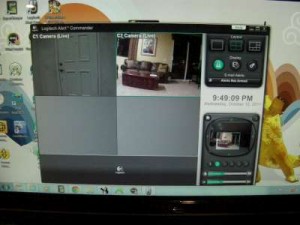 I loved using these cameras during our trip to Disney World.  First, I could keep an eye on the house and be alerted by text if  there was any  movement.  Second, we happened to be having an Open House while we were on our vacation.  I watched the "action" from Florida as we got on and off rides.  I was very disappointed to see how little foot traffic we had.  Seeing it really hit home rather than just hearing about it from our Realtor.
Business Travel
Recently, I traveled to Northern California to visit PlayStation.  I LOVED being able to see the kids in the morning as they prepared and ate their breakfast and knowing when the family got home at night so I could give them a call on Skype.  This was SO handy.  Again, I was notified by e-mail when movement was detected, so I could load access the free Logitech app to see what was going on.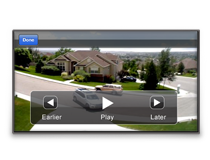 Now, I must note that you do need to pay a monthly subscription to to access your live video content through the smartphone app.  For $79.99 you can purchase a one year subscription to the Logitech Alert Web and Mobile Commander.  I'm telling you, this is worth purchasing, especially if you travel a lot.
Home Office
I can view any of the cameras from my Logitech Alert Commander on my home PC.  Yes, I am occasionally watching my kiddos when they are playing in the family room and I am working in my home office.  I find it especially helpful with play dates.  My son was shocked one day when I came blazing into the room telling him and his friend no jumping on the sofas!  See, moms really do have eyes in the back of their heads!  LOL!
Pricing
You can purchase either Master System for indoors or out.  The Master System includes one camera and the component you need to plug into your router.  You can then include Add-On Cameras for the inside, outside, or both.  Logitech Alert encourages Alert users to upload their video footage to their website to see what they captured with their cameras. Logitech Alert cameras have filmed robberies, a neighbor stealing a delivered package, the UPS man throwing a person's package across the driveway and it busting open, and much more.  See some great "home" videos on Logitech Alert's site.
Logitech Alert Systems can be purchased directly from Logitech at these prices:
Master Systems:
Alert™ 750i Indoor Master System $299.99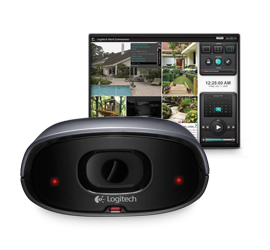 Alert™ 750e Outdoor Master System $349.99
Add-On Camera's to the Master System:
Alert™ 700i Indoor Add-On Camera $229.99
Alert™ 700e Outdoor Add-On Camera $279.99
Mobile Access:
Alert™ Web and Mobile Commander $79.99
Of course, I always compare prices against Amazon.com and found the prices to be similar.
A Homeowner's Perspective
I have never had an alarm or video security system before, this was my first experience.  It has given me such comfort knowing more about what is going on in and around our house.  I feel so much more in control and less worried about break-ins.
Years ago, you would need to hire someone to put in a video surveillance system.  Not so anymore.  The quality is great and the ability to view on a phone, tablet, or PC gives great flexibility.  I should note that these cameras are not wireless.  They still need to be plugged in.  However, the Alert system uses HomePlug 4.4 firmware which means the cameras can network to the router through the house's electricity circuits.
If you're interested in trying out home surveillance, the Logitech Alert system is a great way to go.  If you're expecting and planning on getting a baby monitor, I would recommend getting a Logitech Alert.  It's much better quality than most baby monitors and you can add onto it and build a home surveillance system that will give you more peace of mind for your growing family.
Tell me your thoughts on surveillance cameras…do you have one?
* I was sent an Alert 750e Outdoor Master System and an Alert 700i Indoor Add-On Camera in exchange for my honest opinions.