As I mentioned in my last article, Smart Appliances from CES 2011, one of the highlights of my trip to CES was my scheduled booth tour with Fulton Innovations.  Fulton Innovations has been busy recreating the way we will utilize power in our homes. They have developed some very innovative ways to make consumer packaging and our kitchens more enhanced and efficient.  During my interview with Josh with Fulton Innovations I learned more about their plans for Innovative Consumer Packaging and the Changing Wireless Kitchen.  I've outlined both concepts below.  Be sure not to miss the video at the end of this article to see these things working! 
Innovative Consumer Packaging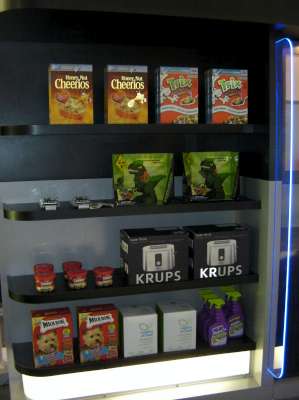 Ready for some cool stuff?    Although it's hard to tell from this picture, the Trix and Cheerios logos are glowing along with other elements on their packages.  Fulton Innovations, the main innovator behind eCoupled wireless power technology, has combined wireless power with printed conductive inks to create printed electronics.  This new ink, which costs no more than an extra layer of ink and is compatible with most printing presses, can be utilized by product manufacturers to call attention to their products on the shelf.  Have a shopping list on your smartphone while in the store?  This printed electronic technology can communicate with your cellphone to let you know the Trix on your list is in the aisle you're standing in.  Fulton believes this type of technology will also allow the consumer to comparison shop through their smartphone as well.      
The Changing Wireless Kitchen 
All I can say is…Wow!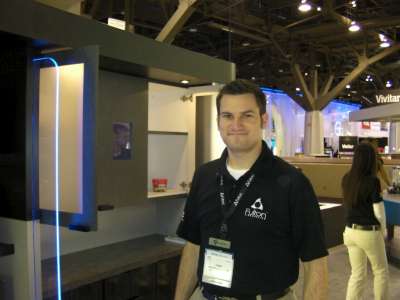 The innovation of printed electronics doesn't stop at the store.  With eCoupled enabled sensors in your kitchen cabinets and refrigerator, not only will you be able to keep inventory of the products you have on-hand and their expiration dates, but you will also have access to view online how much of that product you have left.  Pretty slick.    
In the picture to the right, Josh is showcasing some kitchen cabinets with the eCoupled wireless power built-in.  Product inventory and content consumption can be viewed on your smartphone or Internet-enabled device.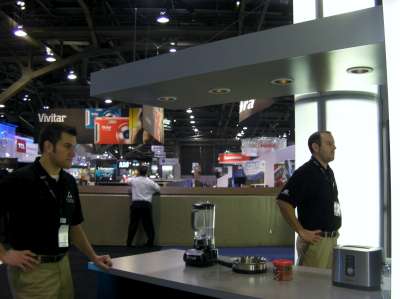 This picture depicts a "typical" kitchen counter in future.  Today's electrical outlets and  cooktop are replaced with eCoupled inducers that can provide electricity to a blender, food processor, smart pan, and even to a package of soup!  No wires involved.   Josh gave a demonstration on how water in the smart pan can boil within no time.  When he removed the pan I touched the inductor and the pan and they were not hot!  What's more, you can actually control the smart pan from your smartphone.  So if you're outside during a party and realize it's time to simmer your sauce, you can turn down the heat without leaving your backyard.    
Josh then showed how a package of soup, taken right out of the cupboard, could be placed on an inductor and cooked…right in it's own packaging!  The heating of the soup can be adjusted on the package to get the soup inside just at the  right temperature.  When removed from the heat, only the soup inside was hot…not the packaging.   To make this concept environmentally friendly, the plastic packaging can be recycled as well as the metal disc (used for heating) inside the packaging.      
Sounds pretty futuristic, huh?  Nonetheless, all of these technologies are available today.  Fulton has been working with their numerous partners to begin bringing these  technologies to the marketplace. 
Want to see more?  Check out the video footage I took during Josh's demo of the Fulton booth:

 
A Homeowners Perspective
Although this technology is available today, much work needs to be done in incorporating it into products.  Though, it's only a matter of time before we see them in the marketplace. 
So should you wait on that kitchen remodel?  No.  But definitely keep abreast on new technology changes in the home.  I have been amazed how quickly these technologies are being created, bringing a great array of new products never imagined by homeowners.  Furthermore many of these new technologies are simplified enough for hhomeowners to install themselves.  The times are a changing.  Be sure to subscribe to theWellConnectedHome.com to learn more of what's possible for less for your home. 
Are you a big fan of home technology?  Are you a DIY'r?  TheWellConnectedHome.com is looking for contributing writers to join the team.  Please contact lori@thewellconnectedhome.com for more details.