by Lori Cunningham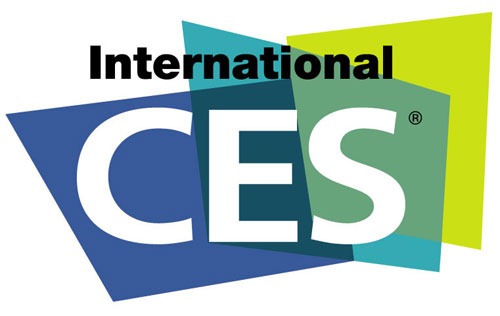 Earlier this month I spent a week at the Consumer Electronics Show (CES) in Vegas to see the latest home tech products and learn about the trends for mobile, home tech, connected appliances,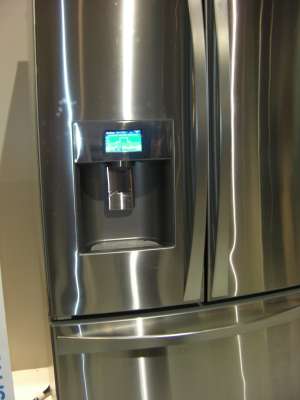 …the list goes on.
I was excited this year for the new section on "smart appliances" as I was gravely disappointed at CES 2010 to not see any appliance companies at the show.  Although I believe smart appliances still have a ways to go to be worth the extra money, this year's new smart appliances are on the right track.  As a result, I listed smart appliances as one of the top trends in my article, Top 6 Tech Product Trends of CES 2011.
At CES 2011, most of the big appliance companies had smart appliance prototypes running at the show…LG, Whirlpool, GE, Kenmore, Samsung, etc.  Most expect their smart appliances to be ready by mid-to-late 2011.  Smart appliances include refrigerators, ovens, and washers & dryers.  Most smart appliances will connect to the Smart Grid and text owners about relevant matters.  A number of manufacturers have also planned for Internet-assisted troubleshooting when the appliances are having issues.  Although the features differ from company to company, here are some of the "smart" features touted by various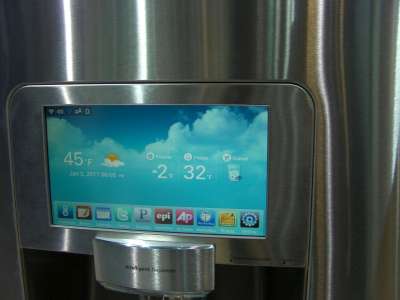 manufacturers:
Refrigerators– pretty much all of them have a LCD touchscreen – from 2inches to 7 inches. Various features include WiFi access, alerting homeowners when the door is left ajar, keep tabs on the number of times the door is opened, reports on electricity consumption, access to your Google calendar, ability to play YouTube videos and Pandora radio stations, writing notes for family members, checking the weather or latest news, connection to the Smart Grid,etc.
Ovens– some offer touchscreens with thousands of recipes and basic cooking instructions (how to roast, how to use a meat thermometer, etc.).  Smart ovens offer great convenience…you can schedule the oven to turn on at a certain temperature and for a certain time to bake!  Want to be alerted when your lasagna is done?  Ovens can now text you to alert you when cooking times have finished. 
Washing Machines – some washers can now communicate with the dryer to help the dryer better anticipate the drying cycle of its clothes.  Smart appliances connected to the Smart Grid can delay the start of the wash until a less cost consuming time is available.  Some companies will offer "upgrades" electronically and automatically such as advanced wash cycles.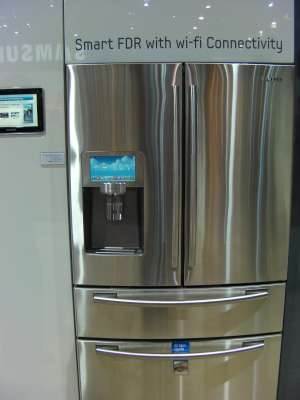 According to Pike Research in Boulder, CO, the market for smart appliances could add up to $6.2 billion by 2015.  Whirlpool is the largest appliance maker with 41.5% of the market.   Samsung has only 1% of the market but is making marked progress with its innovative appliances.   LG holds 8.7% of the market, according to research IBISWorld based in Santa Monica, CA. (1)
With regards to refrigerators, one of the  features people ask for most is inventory management.  It would be handy to know when the salad dressing or hamburger meat will expire.  Although LG has been promoting its new inventory management in it's smart refrigerator, it is preliminary and a bit crude as in many cases, the consumer needs to speak the inventory dates of the products into an app on the refrigerator.
Not to worry Fulton Innovation is working on some very innovative technologies that will make product inventory at home a snap as well as change the way you heat products and utilize your small appliances.  This upcoming article entitled "Future Home Technology for the Kitchen" you won't want to miss!  Be sure to subscribe!